Nissan electric forklift rentals QX Series AC motor 2.0 tons, 2.5 tons, 3.0 tons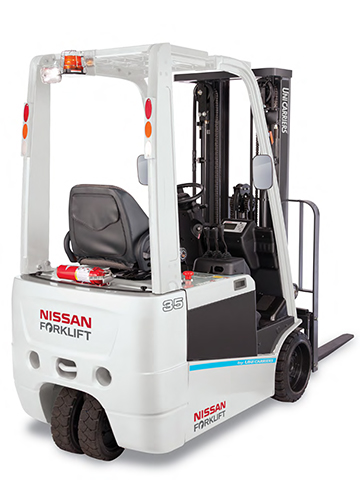 Series electric forklift Nissan used powerful AC motors, durable but environmentally friendly, Vehicle features integrated advanced technology from car manufacturers, steering system is easy to control, wide viewing angle driver, comfortable seats, allows the operator to work in the long run.
With 15 years of experience Nissan forklift rentals in Vietnamese market, we understand and meet the needs rent forklifts from short-term 6 months to 1 year or long-term 3 year 5 year. Maintenance Services, customer support Free Delivery.
In addition, service Nissan forklift rentals Our widely deployed throughout the territory of Vietnam, car rental procedure is simple to support maximum customer fastest, simple monthly payment, Convenience. In addition, we regularly organize training workshops on forklifts and used forklifts process safety, efficiently and effectively in order to bring benefit to car rental customers.
Some basic information about forklifts Nissan QX Series
Type of vehicle: AC electric motor 48 In, 80V shape just driving cars, 4 cake
The LCD multi-function display
Allows analysis, display an error code on the screen automatically,
There are settings to use the car's performance to save power.
Protecting parameters installed on vehicles with PIN.
Power steering system
The control system hydraulic lifting.
Safety belts for driver
Safe brake system.
Control system when the vehicle back, control vehicle speed on the slopes.
Framework designed to protect the driver certainly, Safety.
Vehicles using solid shell.
Users have more options for car: Ribs, lifting frame, side shift…
Vehicle Capacity: 2.0 tons, 2.5 tons, 3.0 tons